We handle every aspect of the design and decor
Decor One is a one-stop-shop for event design and wedding decorations, as we feature a wide variety of mandaps, an exquisite collection of backdrops, luxury linens, and a unique array of centerpieces.

We listen to every detail of your ideas and carefully design the dream of your event. We start with you right from the design phase, where we assist you in choosing linens, chair covers, centerpieces, the backdrop for the stage, aisle, entrance gate, stage mandap all based on your theme, the color of your wedding dress, etc and also assist you with cost estimates and itemizing all anticipated expenses.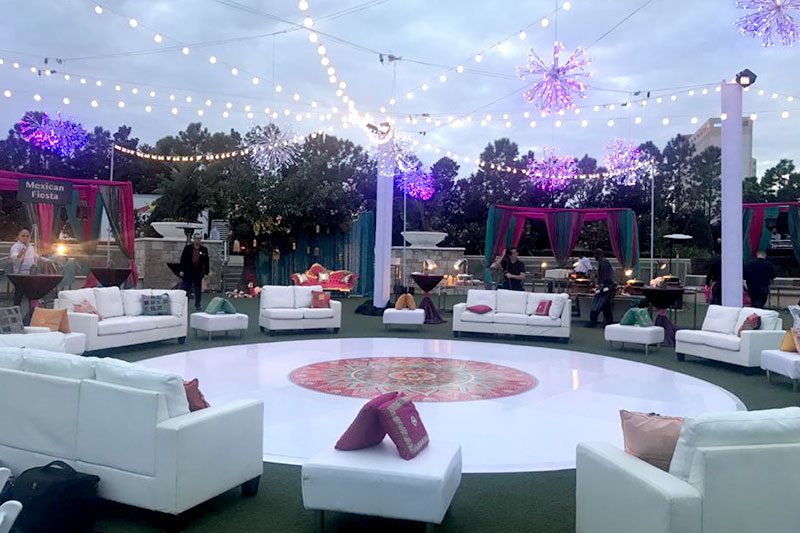 Brace yourselves and visit us at our exclusive 35,000 sq ft showroom where we have our masterpiece works displayed just for you to touch and feel. At Decor One we provide high-class wedding decoration services for Hindu weddings, Indian weddings, American weddings, Ismaili weddings, Romanian weddings, Gujarati weddings, Pakistani weddings, North Indian weddings, South Indian weddings, anywhere in the USA and worldwide.

Unique decor ideas for Cocktail, Sangeet, Mehndi, Ceremony, Reception, Corporate & Social Events, and Other Occasions.

Our services include mesmerizing stage decor, Bar decor , Glimmering photo backdrops, Starry magical ceiling, Sit down sangeet decor and Outdoor decor for all events, colorful themed food carts, decorative idols and statues, Theme decor, colorful Swing decor, decorative umbrellas, lightings, Candles, chandeliers, fresh flowers, silk flowers and more …
Share your dreams with us and
we will make to happen!